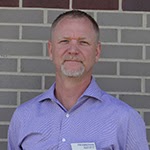 Scott Whitson
Director of Operations
Scott has been in healthcare for over 27 years. The medical field sparked Scott's interest during a career day his Junior year in high school. He visited the X-ray school booth at the US Cellular Center in Cedar Rapids and saw some interesting X-rays.
He then went to the Mercy/St. Luke's School of Radiologic Technology and was a Radiologic Technologist for 11 years before transitioning into a more Healthcare Administration focus.
He loves helping people from the patients to the people helping patients. Scott knows that healthcare is a team approach and enjoys working with every piece of that team. Off work, Scott enjoys spending time with his three daughters. He has a few hobbies including; running, wood working, golf, cooking, and camping.