INDIBA Deep Care is a non-invasive radio frequency aesthetic device that is pain-free, requires no downtime, and can show immediate results.
INDIBA® Treatments help with:
Post-treatment recovery
Post-surgical recovery
Pain management
Cellulite reduction
Increasing blood flow and nutrients
MEDICAL AESTHETICS
Able to target both acute and chronic conditions, INDIBA® Deep Care provides the perfect solution to enhance the health and natural beauty of the skin. While some Aesthetic treatments can cause damage to the tissue, INDIBA® treatments are non-invasive, have no downtime and cause no damage. In fact, INDIBA® treatments provide a pleasant sensation and visible results from the first session.
PAIN MANAGEMENT
Managing pain is key to maintaining overall well-being and can be particularly important following plastic surgery and medical aesthetic treatments. INDIBA® helps to reduce pain and provides an alternative to the use of painkillers – allowing you to avoid side effects and accelerate the recovery process.
FREQUENTLY ASKED QUESTIONS
How does INDIBA Therapy work?
INDIBA is an electromagnetic current which is delivered to the body via electrodes at a radiofrequency of 448kHz. This current gradually increases the treated tissue temperature. The temperature rise triggers the body's natural regeneration, repair and defence responses. For the current frequency of 448 kHz other effects can also be obtained without heating the body's tissues, demonstrated via molecular research; bio-stimulation.
Is there a limit of sessions?
There is no limit; the number of sessions will depend on the disorder or condition to treat and its severity. You can have maintenance treatments to prolong the results if you have a chronic problem or you want to benefit from more lasting effects.
How long does INDIBA take to work?
This depends on what is being treated. Some treatments, such as the face, can have results by the end of the
very first session. With fat reduction results are seen over a couple of weeks, some people report a reduction
in a couple of days. Your professional will be measuring your results.
How long do effects last?
The effects may last for a long time depending on the treatment session features. Often the result lasts longer
once you have had a couple of sessions and can last up to several months after your last completed session.
Your provider will be able to give you a better idea of what to expect during a consultation.
Are treatments painful?
No, it is not painful, in fact is a very pleasant treatment. You should tell the health professional if you feel any discomfort.
Are there any side effects?
INDIBA therapy is innocuous to the body and very pleasant. However, very sensitive skin or when very high
temperatures are reached there can be some mild redness that will fade quite quickly and/or momentary
tingling in the skin. Your health professional will go through this with you
To learn more about Radio Frequency Therapy, please contact our team at MediJUV today.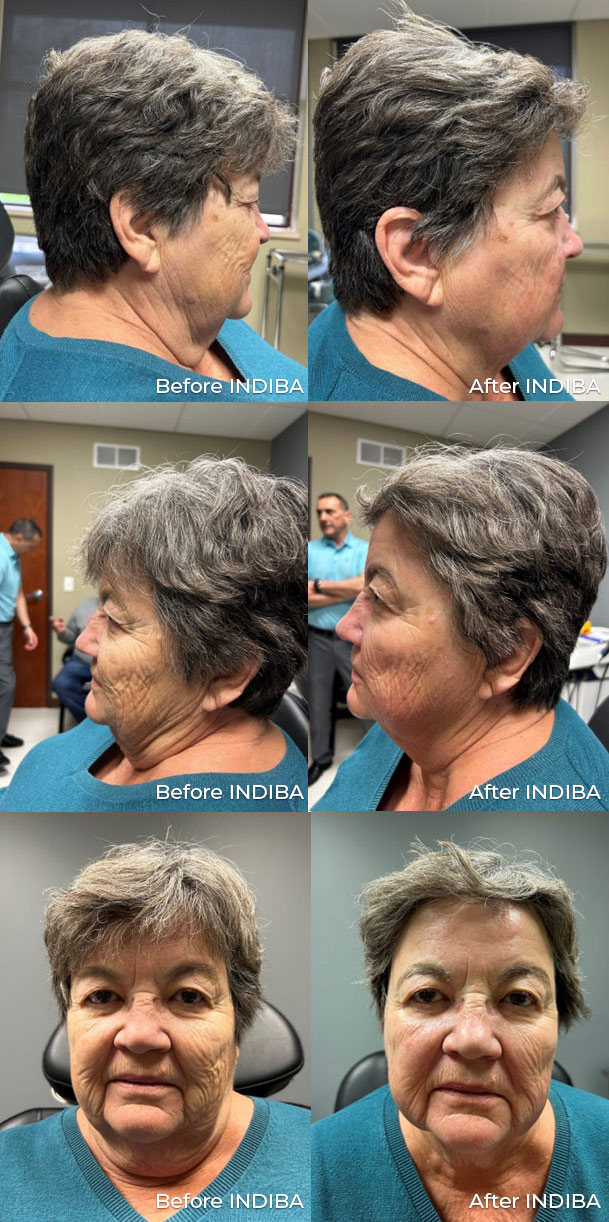 Patient after just one treatment! Normal course of treatment includes 6 sessions.